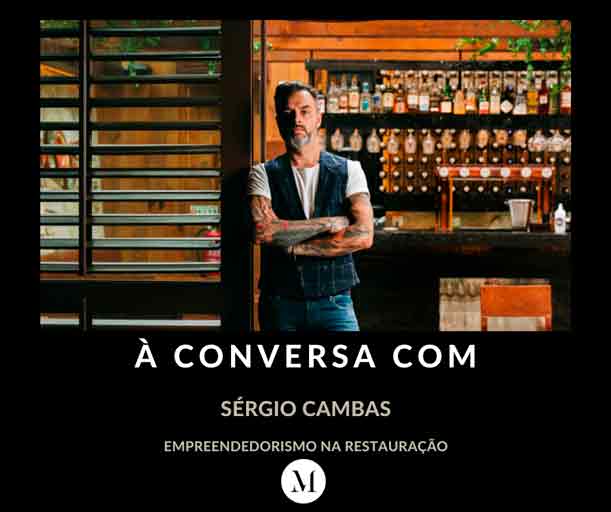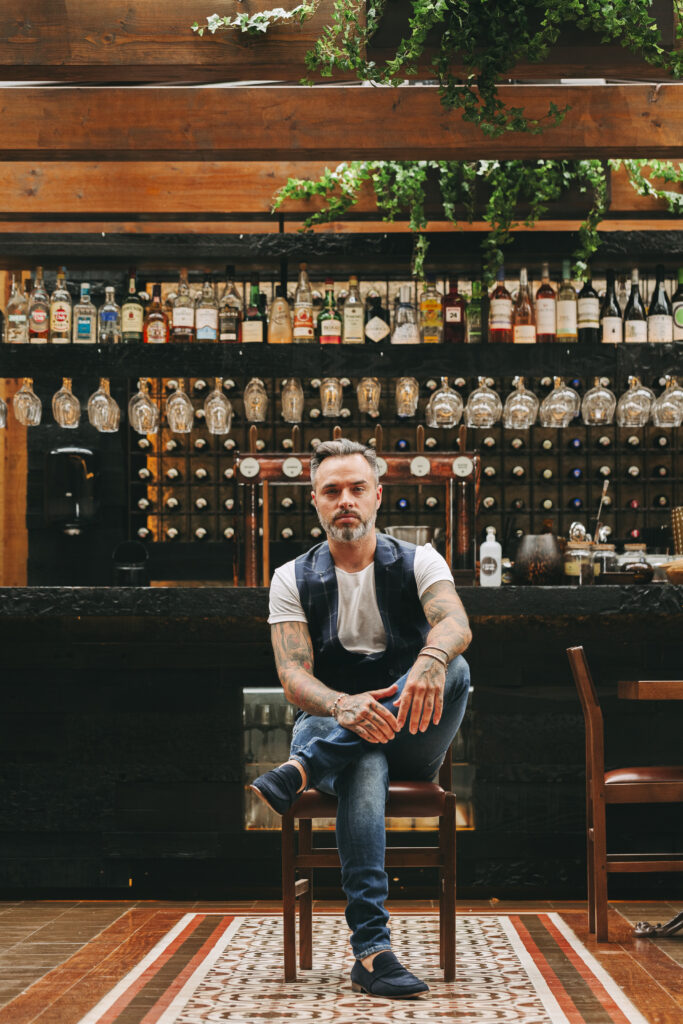 Martiform was talking to Sérgio Cambas, creator of Cervejarias Brasão, O Paparico and, briefly, Granu.
A free creator who shakes Portuguese cuisine and culinary concepts, rescuing them for the present. Constantly evolving to provide consumption experiences in the area of Oporto.
We questioned this visionary, guided by emotion and creativity with an extraordinary business vision. And we understand your efficient, creative thinking and focused on good service, quality and the atmosphere, but above all on your teams and, of course, the customer.
Martiform (M): Tell us what you believe has influenced your profile as a businessman today.
Restoration is a very specific area, very challenging.
I believe that I ended up becoming a restaurant entrepreneur, because I always had a great love for restaurants, hotels and the art of service.
I don't try to be an entrepreneur through restoration, but it was restoration that turned me into an entrepreneur.
M: Looking back, we see a family with a great history in the restoration. When and how did the entrepreneurial spirit appear that makes you move forward with your first space (O Paparico) in the restaurant market?
SC: My roots have a very strong connection with restoration, a family very connected to agriculture and that same area, the area of ​​agriculture, is an area where each one defines his own business: you produce and sell.
On the one hand, you have the responsibility and, on the other hand, the autonomy to design your own path.
What defined me as an entrepreneur or someone who defines his own path, was the fact that I "drank" a little of that root.
Since always and even before my parents entered the restaurant business, I heard a principle that influenced me irreversibly: "you have to define your own path".
I have never seen examples of proximity, in which to be someone or to go to work for a large company, we had to have a higher education degree.
The principle around me was always autonomy and freedom. Freedom to do what you think is right for your business, for your restaurant, for your planting field, thereby assuming the responsibilities from that decision.
Therefore, I was never created to think otherwise, but to think within my own ideas, assuming everything good and all the responsibility that comes with it.
More than being an entrepreneur, I am a person who likes to think in my own head and to define my own path.
Anyone who knows you knows that you have a great streak of creativity and that you like to look at all your projects as "Work in Progress". Where do you think your group will be going in 10 years?
Anyone who has visited us or has had meetings in my offices, knows the first sentence that is at the door: "welcome to the place where everything is to be done!" and this is a principle of concern and at the same time self-motivation for mine, so that we never feel that we are on a static or excellent level. Especially because and more in our business, everything changes very quickly and this change refers to a word that for me is fundamental: adaptation.
Within an adaptation framework, I have been careful to seek timelessness in the base of my restaurant group. That is, look for concepts, expressions, principles and values ​​of service that are solid.
And being solid is not necessarily not take risk, but it is above all, trying to create restoration works that reach the largest possible number of audiences, that are easily interpretable, easily understandable and that always guide us to that great dimension that is: " this concept was born today, but it seems that it has been here forever ".
And that timelessness, in my way of looking at things and seeing them in a very current way, is to ensure that the basis of everything that comes next is a basis that is not necessarily exposed to time.
We have many things in our portfolio, many interesting brands, some still following what is one of the missions I have for this decade as an entrepreneur: updating those concepts that in my perspective are more obsolete, or that did not know how to adapt in the various details , which were not timeless.
They were very good at that time, from there they were born and have survived until now, but at some point they became radically outdated, they were static.
For example, just look at the impact that Cervejarias Brasão had on the city of Porto.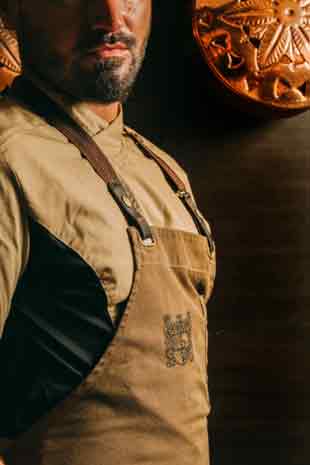 In a world of classics, in fact there was place for another classic that knew how to speak in a current way, that knew how to reach people, without necessarily having to present a logic of trend, but rather, a logic of "modernization", with the necessary smoothness to continue to reach all generations and above all, to continue to make happy all those generations who end up being regular consumers and Customers of the Brasão Brand itself.
There are radically different consumption moments and in different segments, both in price and concept, and my goal over the next 10 years is to diversify this whole offer so that we can cover as much as possible 24 hours a day.
There are radically different consumption moments and in different segments, both in price and concept, and my goal over the next 10 years is to diversify this whole offer so that we can cover as much as 24 hours a day.
That is why, over the next 10 years, I see ourselves maintaining this stamp, this very marked identity.
M: In the journey you have taken so far, what role did the error and the failures play, until you found success with O Paparico and Cervejarias Brasão?
SC: When we take certain steps towards creating certain concepts, first of all, we have to know for what we are going to and prepare ourselves first to take "that jump".
When a person starts a certain business, he must dominate that business and after that, the error has value. If not, it is because the mistake is really naivete and I do not like to consider that what is done is done by naivety, but actually done because you are opening new paths and you are often doing experiments.
In my view, people don't just learn from mistakes. Errors are very useful in order to improve the experience that we give to the Customer and that we give to our own employees.
But I, above all, do not expect the error to happen to begin to glimpse an opportunity for improvement.
Regardless of whether we are working and considering the error in a very humble way, we have to face what we do well as an opportunity to rethink something different and evolve.
Most of the time we work on what are the needs expressed by those who visit us, but I believe that long-term success has to do with the group looking at needs that are not yet expressed. That is, we have to be there before the error happens!
M: What is the biggest challenge that you consider the catering industry is facing right now?
SC: The catering industry  has experienced what I call professionalization in recent years.
Fortunately and speaking over the past 15 years, there has been a great transformation and this transformation has brought with it the DNA of an art that has always lived with a great spirit of sacrifice, as it is an area that demands a lot of intellectually and physically from all stakeholders.
It is an area that is used to suffering, having to overcome and the great challenge of restoration in the near future is to transform.
Transform the first level of restoration, where amateur people who had never worked in the area are located.
The second transformation is that of general professionalization, in which a large structure associated with new professionals is introduced and where creativity enters in a much broader and more democratic way.
Finally, the third step and the great challenge we have, is to make this area first of all extremely valued, not only by those who work in it, but by the consumers themselves and through this process of valorization that begins with Chef´s, but that has not yet passed on to all professionals in the area, we can captivate and make this career extremely interesting, valued and recognized.
Therefore, the great challenge in the coming years will be to bring more people from other areas or who do not yet have a defined area, for restoration, allowing them to find a place of realization and fulfillment here.
M: What advice do you give to those people who may be interested  in the area of catering?
The only advice I give is: if we try to be valued, recognized and valued then we must value ourselves, get to know and value ourselves, mainly through the search for knowledge.
The more we know something, the more exciting it becomes.
M: In your industry, which has evolved at an astounding pace, is there time for regrets?
SC: There are no regrets for a creative!
A person who lives by creation always looks at everything as a masterpiece, regardless of what it looks like. Therefore, I want to improve the work in a continuous way, with no time for regrets. There is time to continue adding value to anything you do.
M: You spoke now of adding value and that is the perfect motto for talking about the new Brand that is coming, Granu. Can tell us a little bit about it?
Granu will be born in Praça Velasquez in Porto and what can be expected above all, is a little bit in the matrix of what I have been saying since the beginning of this interview.
There are concepts that are lost in time and today, when I go to the local cafeteria I find exactly the same scenario, the same type of product.
Nowadays a bakery has as its root selling bread, but it is extremely inspiring to be approached at severals hours of the day.
Therefore, what we can expect from Granu is a concept anchored in bread with high quality, bread from natural yeast dough, in quality cereals, in professionals who in fact dominate and sought to deepen, study and test most of the ancestral techniques that have gone away. losing over time and today they turn out to be a return to the past.
A healthy bread that accompanies us with a coffee with milk or an omelet. A bread that makes a fantastic mixed toast, that goes with a sausage board, that is the base of a ham sandwich or a sandwich with fresh ingredients.
Thus and always around the bread, we managed to make various meals throughout the day, but never losing sight of the fact that this bread above all nourishes. It is a bread with exceptional quality and absolutely differentiated, while being tasty.
M: Recently you reopened O Paparico in which we can notice, not only a change in the gastronomic experience, but also in the uniforms. What are the fundamental details and how did the inspiration for this creation come about?
SC: Each concept of restoration has and must have a well-defined identity, because without a defined concept people never know very well what they can expect or what they will find, so the concepts in restoration have to be very striking.
The concept of O Paparico, from the inside out or the way we feel it, is almost a place where you can find excellent Portuguese cuisine that perhaps is no longer with such diversity or with such a huge research work.
When we enter a restaurant like O Paparico – which balances elegance with rusticity very well, which are two styles that are not always cohabiting simultaneously – we hope to have a total experience.
In other words, we want to forget everything that is happening and be completely involved by the experience. Therefore, one of the details that we worked on in this rentrée, was in fact that the uniform also expressed, in a very striking way, that experience.
Finding someone who does something from scratch is not easy and we find in you the same values ​​of restlessness, creativity and willingness to do something "out of the box".
The new uniforms of O Paparico express a discreet and elegant matrix, a little bit of what is traditional Portuguese clothing from North to South.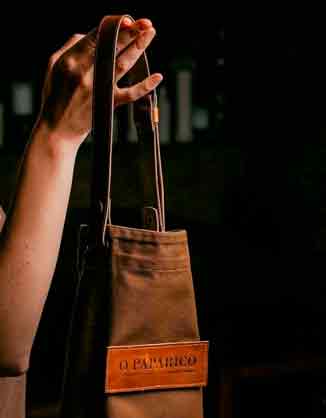 We tried to unify in unique pieces created from scratch, a concept that had details for example of the traditional uniform "minhoto", details associated with what is one of the suits, in my opinion most elegant and fine: that of the Portuguese cavalry and finally that I would also seek those details of the "forcados" uniforms.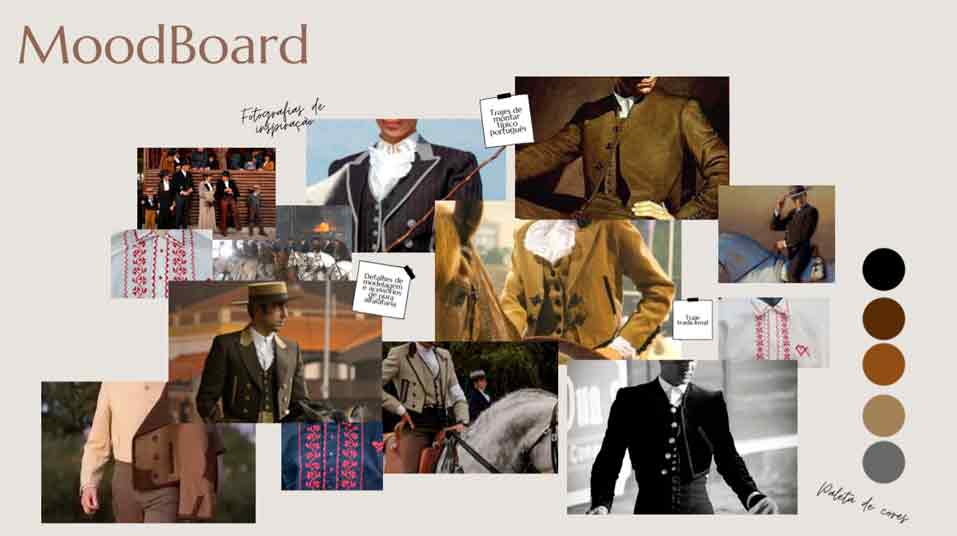 Therefore, there are several elements that express in uniforms, this trip that is Portugal when it comes to traditional costumes.
But it was a great challenge to create we pointed out that by distraction, they managed to create a concept that fit together, with the pillars of elegance and rusticity that O Paparico has.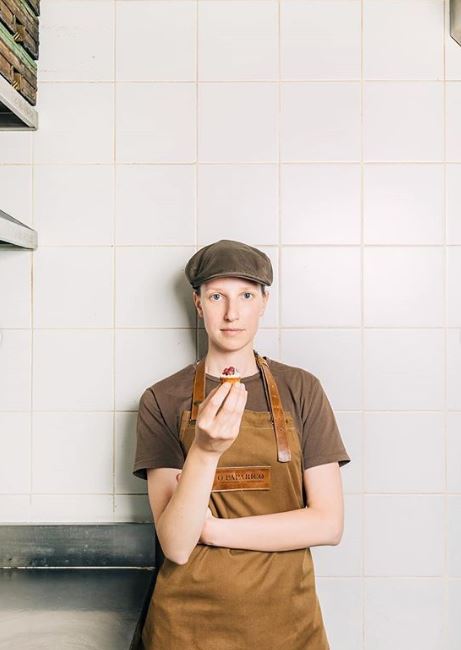 It was extraordinary! And most important of all, when the team wears the uniform, they feel special and defending an important cause, which is basically the cause that moves O Paparico.
M: What about Cervejaria Brasão? Do you want to talk a little bit about the details and how the idea of ​​creating the uniform came up?
SC: As I said earlier, each space has to have its own identity.
The Brewery Brasão have concepts with very large numbers of people, so one of the focuses for the creation of uniforms was, without a doubt, comfort.
Therefore, the uniform had to be practical and the employee had to feel beautiful and comfortable.
Here, we build from the sneaker to the pin that expresses the Brand itself.
As a consumer I think it is very important to have an invisible service, that is, I like a service that has a useful presence: a service that is there for when I need it or anticipating what I need, but without ever feeling the employee's very marked presence . And the creations of the Brasão brand uniforms had this principle.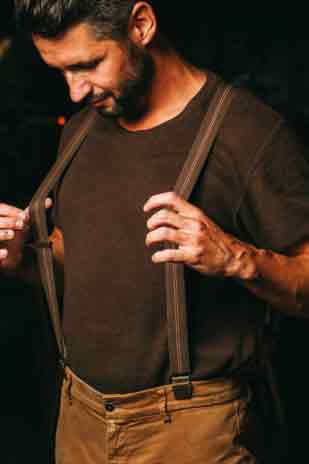 M: Finally, and lifting a little bit of the veil, there are already uniforms designed for Granu, isn't it?
SC: Yes, Granu is currently a project in progress and well underway. We are almost in the process of completing what uniforms are.
Here and involving a little bit the architectural concept, the concept of the products, the cereal, the raw, light, fresh hues, we look for a "more relaxed wave".
We look for sizes slightly above the normal, so that the service can be fluid, almost giving the idea of ​​"swinging the wheat in a field". We try to work with light fabrics, with more natural fabrics, more raw, thus expressing the clarity that is given to us for example by flour.
One of the materials that we are going to use for example is linen. We chose this material again, because it reminds us of cobs maize, cereals, …
Therefore, everything we think will express both in texture and fluidity, that energy, that lightness of "a wheat field at dusk, at the end of August before the harvest!".